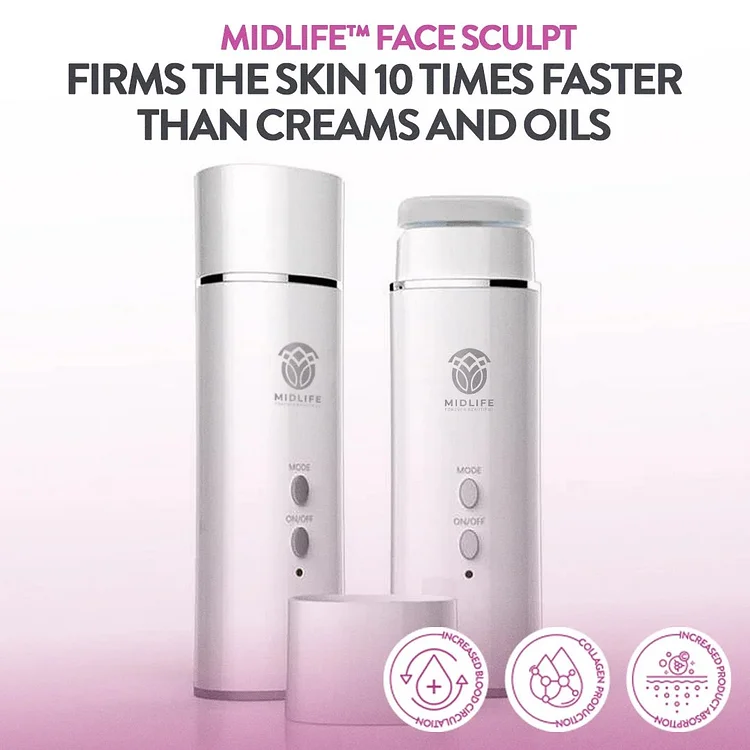 Unlock your Dream Skin In Just 75 Days!
Elevate your skincare and embrace a Youthful Glow with Just
15 Minutes of use Daily.
Without extravagant products & countless treatments
Rated "EXCELLENT" On Trustpilot
Achieving ageless beauty is now incredibly straightforward. Midlife Tapp Sculpt employs revolutionary neural tapping and cutting-edge light therapy technologies to rejuvenate your skin from the inside out.
This game-changing device sends precise tapping motions to stimulate your facial muscles and neural pathways.
 Simultaneously, the integrated red and blue light therapy provides comprehensive skin care. The result? A deeply revitalized, firmer face with improved collagen and elastin production.
An innovative device that merges neural tapping with advanced light therapy for youthful, radiant skin.
For a transformative skincare experience, it's recommended to use Midlife Tapp Sculpt 3-4 times a week, dedicating 5-10 minutes to each facial area. Allow at least 24-48 hours between each session for optimal rejuvenation. Here's how to maximize your results:
Prep with the Collagen Production Cream: 
Smoothly apply our specialized cream to lay the groundwork for effective neurological and cellular stimulation.
Target Specific Facial Zones with Red Light:
Attach the appropriate head for each facial zone, as guided by our easy-to-follow user manual, and activate the red light therapy. This deeply penetrates your skin to boost collagen and elastin production.
Switch to Blue Light Therapy:
Replace the head as needed and employ the blue light therapy to counteract acne-causing bacteria, further enhancing your skin's health and clarity.
Seal the Deal with the Collagen Boost Mask:
After your comprehensive treatment, apply our Collagen Boost Mask to relax and nourish your skin, setting the stage for lasting firmness and a youthful glow.
Innovative Technology
1.The ultimate, cost-effective, and non-invasive tool for comprehensive facial rejuvenation.
2.Perfectly designed for all facial zones, from the forehead and eyes to cheeks and jawline.
3.Customizable intensity levels for gentle stimulation or more robust neurological activation.
4.Cutting-edge facial beautification combining red and blue light therapy.
5.Enhances internal collagen and elastin production while optimizing blood flow and lymphatic drainage, fundamentally transforming your skin.
6.Compact and sleek design, convenient for on-the-go skincare and effortless usage.
3 Interchangeable Heads
Experience the transformative power of our three interchangeable heads, meticulously engineered to rejuvenate your skin from the inside out.
Forehead smoothing head: Crafted specifically for the forehead region, this head promotes skin tightening and reduces the appearance of lines, resulting in a more youthful and rejuvenated look.
Eye contour massage head: Expertly designed for the sensitive area around your eyes, it aids in minimizing puffiness, under-eye circles, and fine lines for a refreshed appearance.
Mouth perimeter massage head: Tailored for the skin surrounding your mouth, it works wonders in diminishing the appearance of smile lines and enhances the skin's firmness.
Clinical Study
THE PINNACLE OF FACIAL REJUVENATION
Discover the transformative device that fuses neural tapping with advanced light therapy to holistically rejuvenate your skin from within.
Reactivates dormant facial muscles
Promotes efficient lymphatic drainage
Diminishes wrinkles in 14 days
Sculpts and elevates the contours of your face
Meet your new go-to for facial revitalization. The Tapp Sculpt seamlessly integrates with your skin to promote enhanced firmness and contouring.
Crafted specifically for the forehead region, this head promotes skin tightening and reduces the appearance of lines, resulting in a more youthful and rejuvenated look.
Collagen Production Cream
A uniquely formulated cream that augments the action of the Tapp Sculpt. Apply a modest amount to your face for superior collagen stimulation.
This mask perfectly complements your Tapp Sculpt routine, helping to relax and rejuvenate your skin after each treatment session.
An in-depth guide designed to walk you through the operation of your Tapp Sculpt. For optimal results, make sure to follow each step carefully.
An essential accessory to keep your Midlife™ Tapp Sculpt always ready to use. Remember to charge the device according to the instructions provided in the manual.
Here's What Our Customers Are Saying!
Revitalize

your skin, enhance your facial contours, and make the Tapp Sculpt your

go-to skincare solution

today!
90 Days Money Back Guarantee
We are pleased to offer a 90 days no questions asked return policy. If you're unhappy in any way with your purchase we will make it right. At your request we will process a refund or replace the product. Your complete satisfaction is our goal.